Tesco diesel probe: Branksome filling station stays shut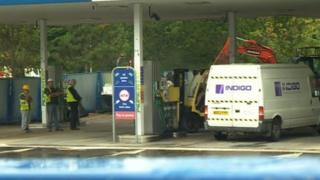 A Tesco filling station whose customers reported engine problems after they bought diesel is to remain closed.
A number of vehicles broke down shortly after filling up at the station in Branksome, Poole, Dorset, on 18 September.
The forecourt has been dug up and the supermarket is carrying out "further research" after tests on the fuel were inconclusive.
A spokesman said the firm was unable to say when it would reopen.
"We don't want to set out what the rough timescales will be as it involves complex testing," a spokesman said.
'Take the time'
About 20 motorists were initially thought to have had problems but the firm said the number of new cases being reported was increasing.
The spokesman said: "We want to take the time to make sure we know exactly what happened.
"Our priority is dealing with all the customers that have been affected and we have a dedicated customer service team dealing with them on an urgent basis."
He said those drivers affected would be reimbursed for their repair costs, and there was no evidence that other filling stations had similar problems.
Peter Haikin, regulatory services manager at Borough of Poole, said: "We are working closely with trading standards at Hertfordshire County Council, who are obliged to take the lead in this investigation as Tesco HQ is within their area.
"We have met with senior representatives of Tesco, at Branksome petrol station, to agree the work necessary to ensure that fuel supplies will be free from contamination.
"Tesco are fully co-operating with the investigation, and the petrol station will remain closed for the time being."