Weymouth beach chalet licences extended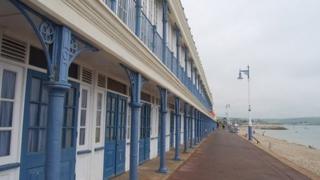 Beach chalet licences at Weymouth's Esplanade have been extended ahead of a proposed sale.
Weymouth and Portland Borough Council plans to put a 125-year lease for the chalets out to tender.
It said current users' licences would be extended until the end of March. Originally, they were due to finish at the end of October.
It added the decision followed residents' concerns about security and loss of revenue over winter.
The authority said the 107 single- and two-storey chalets, a putting green, tennis courts, a cafe and public toilets had become too expensive to maintain.
It had said there was an £800,000 repair bill associated with the concrete chalets.
Councillor Colin Huckle said the authority had sent out letters to all chalet licensees inviting them to extend their licences until 31 March 2015.
Community groups and businesses have until 16 October to submit proposals for the chalets.
The two-storey Esplanade chalets were given Grade II-listed status by English Heritage in 2008, which means they have to be retained.
Greenhill Gardens will continue to be owned, managed and maintained by the council for public use.