Unlawful Shaftesbury war memorial to be moved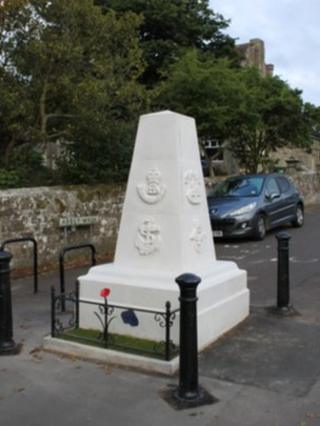 A war memorial which was erected unlawfully in a Dorset town is to be moved to a new site.
The 6ft (1.8m) Portland stone monument was put up last year in Park Walk near Shaftesbury Abbey - which is designated as an ancient scheduled monument.
English Heritage asked for the monument to be removed as it was erected without consent.
Following a heated meeting on Tuesday, town councillors voted for it to be moved to Castle Hill Gardens.
The decision followed a public consultation which identified five possible locations, which also included Brionne Gardens, Mampitts Cemetery, Queen Mother's Garden and Rifles Lane.
More than 280 people voted with 82, the highest number, choosing a sixth option of "none of the above".
The council meeting heard arguments over the ownership of the monument, responsibility for the cost of storage as well as its new location.
After using her casting vote in favour of Castle Hill Gardens following a split decision, mayor Win Harvey said the council should "draw a line" under the affair.
The memorial features the cap badges of regiments, including the Devonshire and Dorset, which later merged into The Rifles.
Col Robin Miller, chair of the Royal British Legion in the town, told the council meeting it would be "an insult not to put it anywhere".
He said there had been "enough negativity" over the monument and added there needed to be somewhere to commemorate fallen members of the regiment.
The council report showed some comments received during the public consultation including, "we do not need another war memorial" and "sell it on eBay".
One voter drew a sketch showing the memorial on "rubber wheels" so "you could take it anywhere".