Stour riverbank repairs at Tuckton begin after floods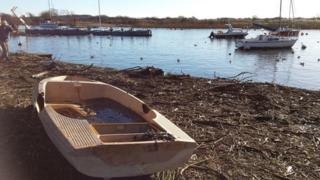 Work to repair a riverbank in Dorset that was damaged by floods has begun.
The River Stour at Riverlands and Tuckton, near Christchurch, overflowed as a result of violent storms and tidal surges at the start of 2014.
The repairs, on the west bank, involve replacing timber revetments with sheet steel to prevent further erosion.
There will be restricted access to the riverbank for walkers and boat owners. The work is expected to be completed by the end of November.
Bournemouth borough councillor for tourism, Lawrence Williams, said: "This is a very popular area of Bournemouth so we want to make sure that it is maintained and protected for people to enjoy in years to come.
"This investment in the riverbank is essential following the high level of rainfall we experienced last winter and will reinforce the riverbank against any severe weather in the future."