West Bay's flood defence work begins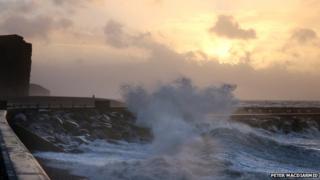 Flood defence work is taking place on a Dorset beach.
The work at West Bay will return the sea defences to their original state, after the beach was reshaped and stripped of shingle by strong tides.
West Dorset District Council said the work is important to protect homes and businesses around the harbour.
Council leader Robert Gould said the work "must be done to ensure the area has the best possible resistance against any future severe weather".
The first stage of the work will last around two weeks. It will include adding new shingle to the beach and rebuilding the rock groyne.
Vehicle and pedestrian access along the western Esplanade will remain open, but parking spaces will be closed while the work is carried out.
Mr Gould said: "The work will take place out of season to minimise disruption and we would like to thank everyone in advance for their patience and understanding."
A second phase of work will start in early 2015.