Dorset school dinners: Chartwells warned of legal action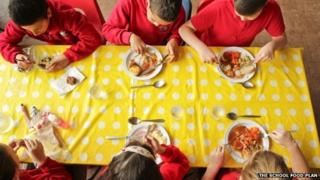 A catering company has been warned it could face legal action if there is a repeat of failures that led to children in Dorset not receiving school meals.
Chartwells was called before Dorset County Council's scrutiny committee over its failure to provide hot meals after a fire at one of its kitchens.
The committee also heard about continuing problems, including stories of mouldy sandwiches.
Chartwells said it would continue to work with the council on the issue.
During the meeting, the committee warned Chartwells it would be at risk of legal action if the problems continued.
Pizza order
Afterwards, deputy council leader Robert Gould said: "Nobody predicted a very big fire, which was the cause of most of this problem.
"Things are moving in the right direction and after half term we hope full service will be restored to those children who should get those hot meals."
A Chartwells spokesman said: "It was a useful meeting. We need to take on board the comments the council makes through their recommendations and we'll continue to work with the authorities."
The company said it was now delivering meals "consistently" and vowed to resume a hot meal service to the 23 schools which have been receiving temporary packed lunches from 3 November.
Schools in the east of the county had to order sandwiches and pizza when deliveries from Chartwells failed to show up at the start of term.
A council report blamed the caterer's poor communication, drivers not turning up and logistics at new premises not being tested.
The contract, awarded earlier in the year, to provide daily meals for 107 schools was worth £3.5m over four years.
All infant pupils at 16,000 schools across England are now entitled a daily hot meal under the Universal Infant Free School Meals policy.