Dorset schools to receive compensation for meal fiasco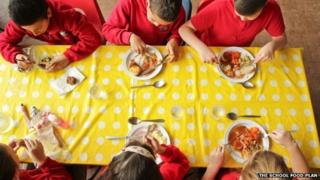 Schools that did not receive meals for their pupils will be given compensation from a catering company.
Dorset County Council said Chartwells has offered to pay a minimum of £2,100 to those schools which did not receive hot dinners at the beginning of this term.
Parents will also be able to claim a refund for missed or late deliveries.
The council's cabinet has agreed to create an action plan to address the issues of the free school meals scheme.
The decision was made after the council's audit and scrutiny committee met to consider what lessons could be learned when some children were left with no meals after a fire at a Chartwells kitchen.
Sandwiches and pizza
Schools in the east of the county had to order sandwiches and pizza when deliveries failed to show up.
The council's action plan will be produced in the next three months and will consider the contracting process, communication with the contractor and what should happen if problems arise in the future.
Leader Spencer Flower said: "It is imperative that we produce a comprehensive action plan to address the issues that have been identified."
A spokesman for Chartwells said: "We take our commitment to service delivery very seriously and regret the concern and inconvenience which has been caused to schools, pupils and their parents.
"We have apologised to those affected and will reimburse them fully."
The Chartwells contract, to provide daily meals for 107 schools, was worth £3.5m over four years.
All infant pupils at 16,000 schools across England are now entitled a daily hot meal under the Universal Infant Free School Meals policy.