Water in gas main affects 450 homes in Weymouth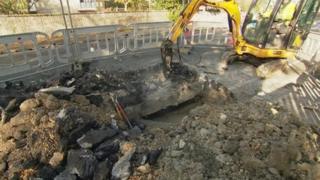 About 450 properties have been without gas in the Preston area of Weymouth after water leaked into a gas main.
Supplies to 260 houses in Seven Acres Road in the Preston area were originally shut down just after 10:00 GMT on Tuesday.
A second point where water entered the supply was later discovered and the water extracted, gas company SGN said.
Electric hotplates and heaters are being given to residents at a help centre at Preston Village Hall.
Engineers had begun reconnecting supplies following the original problem on Rosewood Road but residents raised concerns about fluctuating gas pressure on central heating boilers and cookers.
Water was found to have affected properties in 15 streets.
SGN said engineers from Portsmouth, Surrey and Sussex had been brought in and had begun the process of restoring gas supplies.
The company said by 18:30 GMT about 300 homes were still to be reconnected.
Compensation will be offered to residents who have their supply cut for more than 24 hours, the company said.