BT crossed phone lines in Dorset sends calls haywire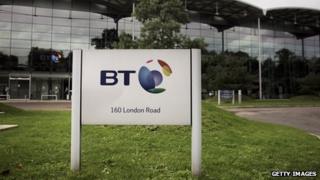 Scores of people in Dorset saw their phone service go haywire when cabling work left crossed lines and a multitude of wrong numbers.
After BT replaced 240m of underground cabling, there were 128 faults reported in Winfrith Newburgh and East Knighton.
Residents said they had no service from 29 October and then started getting calls for people in the next village.
One person received a call from a neighbour's doctor who had important medical news.
'No contact'
Villager Stephen Guy said: "I received a phone call for a lady up the road.
"He was waiting for an important call from her doctor. He rang in the afternoon and of course spoke to me.
"I gave him her mobile so then he was able to ring her up."
Maurice Guy, who runs Rainbow Garage in the village, near Dorchester, said he has lost hundreds of pounds a day from lost MOT appointments alone.
"Without the phone lines working there is no way anyone could have contacted us," he said.
A BT spokesman said most of the faults had now been dealt with and only a few faults were still outstanding.
He added: "We are sorry for the problems experienced by some customers in this area.
"This is a complex repair involving the replacement of around 240 metres of underground cabling and a variety of other works.
"If any customers feel they are entitled to compensation, they would need to discuss the matter with their service provider with whom they have a contract."