Navitus Bay wind farm: Public hearings begin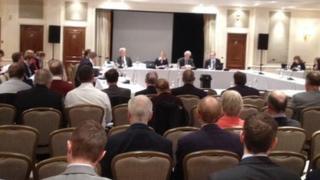 Public hearings where supporters and critics of a planned wind farm off the south coast can speak have begun.
The Navitus Bay scheme, for 194 turbines up to 200m (650ft) high off Dorset, Hampshire and the Isle of Wight, is currently being examined by the Planning Inspectorate.
Issues such as the visual impact of the site, water quality and health impacts will be discussed.
Campaigners for and against said they were keen to share their views.
The public hearings will take place over three or four days at the Highcliff Marriott Hotel in Bournemouth.
'We remain confident'
Representatives from Dorset County Council, Jurassic Coast Trust, Natural England and protest group Challenge Navitus are among those who have been invited to speak.
A smaller "plan b" option, which was announced earlier this month, was also up for discussion.
Bournemouth Borough Council said it was "unlawful" to consider the smaller proposal as part of the current examination process.
During the meeting, council leader John Beesley said: "There are currently no grounds for the Secretary of State to consider plan b as an amendment to the current proposed wind farm.
"It is unfair to submit this new scheme and expect local councils, interested parties and the local community to respond in such a short time frame. The consultation and examination process should start from scratch."
Navitus project director Mike Unsworth said the smaller option had not replaced the original proposal, to which they "remain fully committed" and is the result of four years of consultation.
"We have always gone above and beyond our statutory responsibilities to ensure local stakeholders are informed about the project," he said.
"We remain confident that we have made a strong and comprehensive case for Navitus Bay and the significant benefits it can bring to both the region and the UK."
David Lloyd, from Challenge Navitus, said: "We are very much looking forward to these special interest hearings, because the more the Planning Inspectorate starts to focus on the real detail concerning the objections to this development, the more it is becoming patently clear to them how ill-suited this plan is to this particular area."
The Planning Inspectorate is expected to complete its examination of the proposals in March 2015 before a decision is made by the Secretary of State for Energy and Climate Change next September.