Weymouth traders question Business Improvement District levy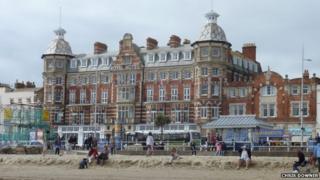 Weymouth traders who pay an extra levy to the Business Improvement District (BID) have demanded to know where their money is being spent.
More than 100 people attended the BID's first annual general meeting at the Royal Hotel on Tuesday night, with many questioning the board of directors.
They wanted to know what its benefits were and said it lacked clarity.
The board said the benefits of the BID, which was formed a year ago, would not be realised until next year.
BIDs involve asking businesses to pay an extra levy with the aim of using the money to improve and promote the area.
'Proof of the pudding'
There were many interruptions during the meeting and another area of contention was the BID's constitution.
During proceedings joint chair Alison Theobold admitted it was working without an agreed constitution.
When asked by a trader if there was one, she replied: "Technically not, no. Not at this moment in time."
The board also said there had been a lack of communication from the directors to businesses.
Following the meeting many traders said the board "didn't answer questions" which were put to it.
Director Ray Nowak said the majority of traders at the meeting did not have full confidence in the board "because they haven't seen the proof of the pudding" which he said would not come until next year.