WW1 truce football game in Dorset to take place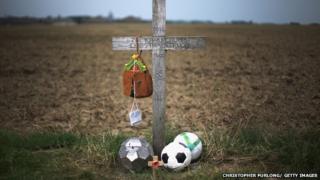 Soldiers and footballers in Dorset will go head-to-head in a football match to mark the World War One Christmas truce.
A team from the Bovington army camp will play against the Dorchester Town football team dressed in army uniforms.
The commemorative event from 17:30 GMT, at the Avenue Football Stadium, will include a minute's silence, live music, prayers and carols.
The truce saw British and German soldiers across the Western Front play football together, in December 1914.
Spielberg's replica tank
A replica tank, built for Steven Spielberg for the film War Horse, will be on the roundabout next to the stadium.
Two thousand replica World War One books with the gospel of St John - the same as those given to the soldiers 100 years ago - have been donated to the event.
The Bishop of Salisbury will be among VIPs who will arrive at the stadium in a limousine, flanked by the White Helmets Motorcycle display team.
The two teams will be dressed in the uniforms of German and British soldiers and a short service will be held before the game.
After the match, two identical trophies will be presented to the teams regardless of the result, as a symbol of peace and reconciliation.
Dorchester Town FC community director Allen Knott, said: "For me [this event] is very important. Our soldiers and all of our military go out and put their lives at risk so we can live in peace, and we must never forget that."
Team members will all be presented with a special medal to mark their involvement in the event.
Proceeds from the match will go to a number of charities.