Cerne Abbas Care Home inadequate in all areas, report finds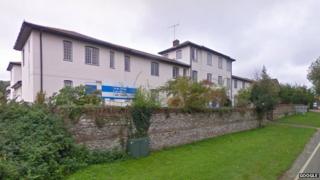 Residents at a Dorset care home were at risk of harm because areas of it were dirty, smelt of urine and had no hot water, a health watchdog has found.
Some of the Cerne Abbas Care Home's residents were also left unsupported and isolated, the Care Quality Commission (CQC) said.
The report followed a two-day unannounced inspection in July.
The home, which was run by Adiemus Care Ltd, closed before the report was published.
The 38 elderly residents, some of whom had dementia, have since been re-housed locally.
'Left alone'
Inspectors found the home was "inadequate" in all areas of service, including safety and caring.
One person, who could not talk and had no mobility, was left in a room alone for two hours, facing a television which was switched off.
"The person's care records stated they liked company," the report said.
It also stated people's rights to privacy and dignity were not always respected and residents doors were left open onto communal corridors.
"In one instance, we observed from the corridor a person receiving personal care," the CQC said.
There had been no registered manager at the home since January 2013, the report said.
'Not fit for purpose'
It added specialised equipment was also in poor condition and said the home was poorly maintained.
The CQC said it did not identify any concerns with the care provided to people at the home at its previous inspection in 2013.
Adiemus Care Ltd said there was "no viable option" to continue operating the home.
It took over the running of it in 2013 when Southern Cross group went into administration.
"The environment was not fit for purpose and the very high cost of refurbishment was prohibitive," it said.
"All former residents have been re-housed in a safe and planned transfer."