Poole's storm-ravaged beach repairs completed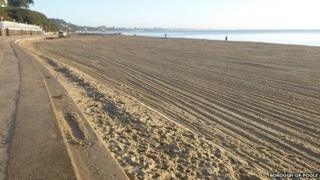 Work to return sand levels along Poole's seafront - damaged in winter storms - has been completed.
About 140,000 cubic metres of recycled sand has been pumped on to the beaches to protect nearby homes from future storms.
The council said every beach in Poole was now back to its original levels.
The work carried out with £1.2m of government funding was carried out after severe weather in February caused 10 years' worth of sand to wash away.
In addition £750,000 of repairs funded by Defra was carried out at Shore Road beach.
Dips and arched areas were expected to form on the shoreline while the sand settled before forming back into gentle sloping beaches.
A dredger connected to a pipeline was used to pump the sand ashore 24 hours a day, seven days a week, during the four-week project.
The pipeline on the seabed will be floated to the surface and moved ashore onto Canford Cliffs beach on 22 December.