Mudeford Quay cottage demolition refused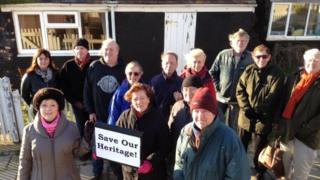 Campaigners trying to save a 300-year-old cottage on the Dorset coast are celebrating a victory after plans to redevelop it were refused.
Christchurch planning committee voted six to one, with one abstention, to refuse the demolition of Little Haven Cottage on Mudeford Quay, at the entrance to Christchurch Harbour.
Councillors were warned the application was likely to succeed on appeal.
Campaigners said they would "keep fighting the war".
'Not another Sandbanks'
Officers had recommended that Little Haven Cottage, owned by former Christchurch council leader Alan Griffiths, should be replaced.
Local residents and conservationists argued the plans were not in keeping with the character and style of the area.
Speaking after the meeting, campaigner Bob McNair from Christchurch Labour said they "didn't want Mudeford Quay turned into another Sandbanks with inappropriate modern buildings".
Fellow campaigner Penny Simpson, who lives directly opposite Little Haven, said: "We may have won the battle tonight but the fight goes on against heritage destruction.
"The chairman pointed out that, if it went to appeal, it would just be accepted without any conditions or terms at all, which is very, very worrying.
"It's going to skew the whole character of the quay, it's absolutely heartbreaking."
During the planning meeting on Thursday evening, councillors were told the former wash house, which is inhabited, had been extended in the 1950s.
A previous application to demolish Little Haven Cottage was turned down in 2012 because it was not in keeping with the character of the area, and an appeal also failed.