Toxins in Dorset scallops remain above legal limit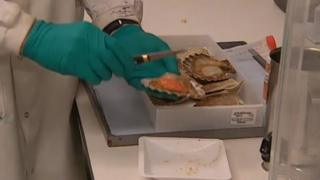 Shellfish being caught off the Dorset coast still contain toxin levels above those safe for human consumption.
High levels of Amnesic shellfish poisoning were found in scallops following an algal bloom in May.
The Weymouth Port Health Authority said tests had shown the toxin "generally remained above the permitted level".
Amnesic shellfish poisoning can cause neurological symptoms such as dizziness and confusion, and in very rare cases, death.
Weymouth Port Health Authority said it was working with Cefas and the Food Standards Agency to continue testing scallops for the presence of the toxin.
It is found in the digestive systems of scallops.
Fishermen have to legally test every batch landed before they go on sale.