Branksome Tesco contaminated fuel: Man arrested in Essex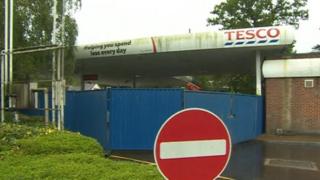 A man has been arrested after a Tesco petrol station was found to be selling contaminated diesel.
Dozens of vehicles broke down after motorists used diesel pumps at the station in Branksome in Poole, Dorset, on 18 September.
Police think the contamination occurred when fuel was stolen from a tanker in Grays, Essex, and replaced with non-road diesel before heading to Dorset.
A man from Canvey, 57, was arrested on suspicion of theft and bailed.
The petrol station was forced to close for nearly two months while investigations were carried out.
At the time, customers complained of damage running into thousands of pounds being done to their vehicles.
Tesco previously said tests had not confirmed what caused the contamination.