Dorset schools 'need help for free school meal plan'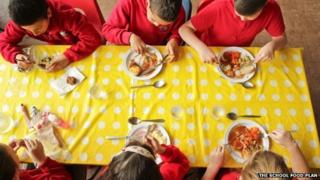 More than half a million pounds has been requested from the government by Dorset schools to help them cope with providing more free school meals.
Schools have asked for the funding for new equipment and to alter or extend their buildings, Freedom of Information requests reveal.
In total, £502,959 has been requested by Dorset schools from the Department for Education (DfE) since September.
In September the DfE made every infant pupil eligible for a free school meal.
'Rushed'
John Bagwell, head teacher of Parley First School, in West Parley, said the infrastructure had not been in place for schools to provide extra free meals.
The DfE said an extra 1.3 million children now received a free school meal.
He said: "This policy has been rushed through and for us as schools we had to make sure that was in place by September without any strategic thinking, and particularly core infrastructure within the schools.
"Our facilities were certainly not up to the standard to deliver from 20 meals a day previously to 140 meals a day and 300 children coming through to eat.
"You can't have a PE lesson or a gymnastics lesson where there are peas and carrots all over the floor and children are trying to do handstands, cartwheels etc."
Among the schools which have requested funding, Courthill Infant School in Poole asked for £150,000 to extend and remodel its kitchen and Wyke Regis Infant School and Nursery asked for £138,000 for an extension to run alongside its school hall.
A DfE spokesman said schools had done "a tremendous job" in implementing the policy.
They added that more than £6m of capital funding was given last year to schools across the south towards the cost of free school meals and a further £24.5m in funding is to be announced this week.
It is not known how much of the £500,000 requested has been granted.