West Moors escaped rhea reunited with owner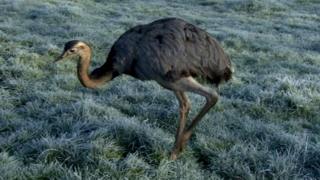 An escaped ostrich-like bird has been reunited with its owner after four days on the loose.
The rhea, called Kevin, was found roaming in the West Moors area of Dorset on Thursday, before it was herded to a farm where it was held.
The RSPCA said the bird appeared to be uninjured but officers had not been able to get close enough to check.
Kevin's owner said he went missing four days earlier after being chased by a dog that had been let off its lead.
RSPCA animal welfare officer Sue Brooks said: "I've been an officer for over ten years and I've never seen a rhea in the area. We've had wallabies before, but this is a new one."
Rhea facts
Rheas are native to South America and are sometimes farmed for meat
They are flightless birds related to the ostrich and emu
Large males can reach 170cm (67in) in height
Their wings spread when they run, acting like sails
They are considered near-threatened by the International Union for Conservation of Nature