Bus cuts in Stourpaine 'put children at risk'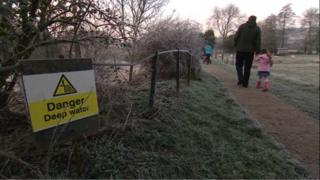 Parents in a Dorset village say their children are being "put at risk" by plans to cut their school bus.
A number of children living in Stourpaine currently take a bus to Durweston to go school but in three weeks the service will be cut.
Some children will have to walk along weirs, across bridges and on a country path which floods, parents said.
Dorset County Council said it had upgraded the one-mile walk to the school and so cut the bus service.
The council said the walking route was now safe and "all weather".
Julie Wigg, a parent of children at the school, said: "It looks like an idyllic walk but it's just not practical, you just can't do it every day.
"One time, when I walked the children to school, by the time I got here and realised it was flooded, it was obviously too late to go back.
"I thought I'd piggyback them across and it filled my wellies up. It was quite dangerous because it comes at quite a speed."
Road safety officer, Alan Proctor, said the council had followed national guidelines when it carried out a walked route assessment, which looked at the safety of the route.
He said: "We looked at traffic flow, gap analysis - which means is it safe to cross the road - we looked at how many gaps there are in the traffic, sight lines.
"In this case it's virtually all off-road and the bits that are on-road are on a footway."