Missing Samantha Henderson: CCTV footage released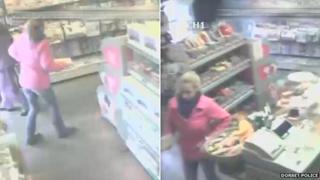 CCTV footage showing a mum-of-four on the day she disappeared has been released by police.
Samantha Henderson, from Corfe Castle, Dorset, was spotted in The Sweet Shop in the village on 21 January at 11:41 GMT. She was wearing a pink jumper or coat and light blue jeans.
The 25-year-old was last seen at 15:00 at Corfe Castle Primary School.
Police have an extension to 17:00 on Tuesday to question a 27-year-old man on suspicion of her murder.
Officers said the man, also from Corfe Castle, is known to Ms Henderson.
Ms Henderson was reported missing just before 08:45 on 22 January.
She is described as white, 1.6m (5ft 3ins) tall and of a very slim build.
Det Insp Mark Samuel, of Dorset Police, said: "We have not found Samantha yet and are gravely concerned about her, fearing that she may have come to some harm.
"Samantha's disappearance is completely out of character as she has never gone missing before, leaving her four young children."
Police have appealed for information from anyone who may have seen her or had contact with her on social media.
Ms Henderson's car, a Peugeot 307 Estate with the registration HV04 ZFM, has been seized by officers.
A forensic examination is being carried out on her house and the surrounding area, including a nearby common and allotments.