Royal opening for Wessex Heartbeat cardiac unit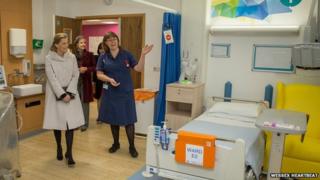 A new cardiac unit for young adults has been officially opened at Southampton General Hospital.
The Wessex Heartbeat charity raised more than £500,000 to create the specially designed facility for young people with lifelong heart conditions.
The charity said it would offer "unrivalled continuity of care in one of the country's best-performing cardiac centres".
Its patron, HRH Sophie Countess of Wessex, performed the opening ceremony.
The unit has 17 beds, a kitchen area, social room, quiet room, an open nurse reception area and clinical rooms.
It allows younger patients to be treated alongside people of their own age rather than elderly or seriously ill adults.
Wessex Heartbeat's High 5 appeal was one of those that benefited from the Go! Rhinos project, during which 36 life-sized fibreglass model rhinos were placed around Southampton in the summer of 2013 before being auctioned.
The countess met young cardiac patients, clinical staff and fundraisers and unveiled a plaque during her visit to the hospital.
Wessex Heartbeat chief executive Alison Farrell said: "The High 5 Appeal has enabled us to achieve something truly unique in children's and adult cardiac care in the UK."