Bournemouth beach gets £43.7m to combat erosion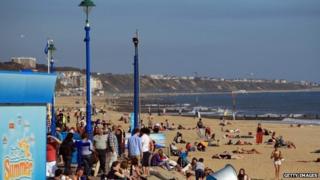 A beach management plan aiming to prevent erosion in Bournemouth has been given £43.7m.
The money was agreed by Bournemouth Borough Council on Tuesday for the 17-year project which it says will protect the coastline for the next 100 years.
The council said the work would include sand added every three years to keep the seven-mile seafront topped up and new protective groynes.
Bournemouth's coastline is eroding by 1m (3.2ft) each year.
The council said without intervention the town "could face the loss of more than 3,000 homes to coastal erosion".
Councillor David Smith, Bournemouth's cabinet member for planning and environment, said the coastline's appearance would also change drastically "with a subsequent impact on our tourism economy".
The beach which attracts more than 7m visitors a year, underpins a tourism economy worth £472.8m annually and helps support more than 11,000 jobs, the council said.