Rampisham Down solar farm: Government puts permission on hold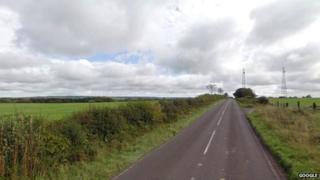 Planning permission for a solar farm in Dorset criticised by conservationists has been put on hold by the government.
Conservationists claim the proposed 25MW solar scheme at Rampisham Down, would be damaging to wildlife.
The Department for Communities and Local Government has prevented permission being granted, pending a decision to call in the application.
Developer British Solar Renewables insisted the scheme would be beneficial to the local economy and environment.
The application by the company for the 76ha (187-acre) solar farm, near land formerly used as a radio transmitter station, was approved by West Dorset District Council in December.
'Nationally important site'
Ian Gardner, chairman of the authority's development control committee said the government's decision was "standard planning procedure" while the Secretary of State Eric Pickles, makes a decision on whether to call in the council's decision for a public inquiry.
"In reaching a decision last month, the committee had to weigh the economic and environmental benefits of the solar farm and the welcome removal of 34 redundant masts against the impact of the proposed scheme," he said.
An online campaign by Dorset Wildlife Trust opposing the scheme has attracted more than 6,000 supporters.
The trust said Rampisham Down Site of Special Scientific Interest (SSSI) was a "nationally important wildlife site" and a vital lowland acid grassland habitat.
Nearly 120,000 photovoltaic panels on steel frames would be installed under the plan, following demolition of 34 radio masts and towers.
British Solar Renewables said using solar panels coated with glass with a low-iron content to reduce reflectivity, along with their height off the ground, would benefit wildlife.
Other environmental measures in their proposals included creating a "wildlife corridor" between the park and surrounding habitats.