Borough of Poole council wins right to remove energy group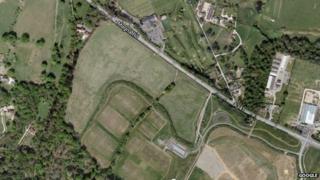 A council has been given permission to remove a group of activists from a piece of land in Dorset.
The Bearwood and Merley Organic Free Energy Community claimed it took "lawful possession" of a piece of land near Canford Magna on 15 January.
Borough of Poole Council was granted "possession forthwith" by a judge at Bournemouth and Poole County Court.
Council officers will collect a copy of the order and post it at the site to notify the group they must leave.
A spokeswomen for the council said: "If they do not leave the site then we will arrange for bailiffs to evict them."
According to the council it constituted an "unauthorised encampment" with four people living on the site.
'Swimming pool'
On the Facebook page for Bearwood and Merley Organic Free Energy Community it said: "The community has taken lawful possession of the piece of land known lawfully as Dog Leg of Land, and it is now in an Allodial Trust, for the people."
The group hoped to construct dwellings, planting areas, a water temple, a swimming pool and social space as well as a "sheriff's HQ" at the site of the former Moortown airfield.
They said in a statement of intent: "It is our vision that all people of the community get to benefit from our naturally created resources."
The group and volunteers from the community would grow food and produce energy using solar panels and other means.
This would be divided up among the community and sold, with money going back in to the project.
Bearwood and Merley Organic Free Energy Community has been contacted for a comment.