Rui Li murder case: Bigamist husband 'panicked' over wife's death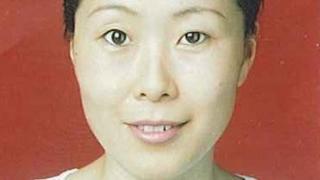 A bigamist accused of killing one of his wives feared details of their secret life emerging after he found her lifeless body, a court has heard.
Nurse Rui Li, 44, was found dead in a car boot in Bournemouth on 30 May.
Pierre Legris told Winchester Crown Court he did not report her death as he did not want details of their life as swingers who ran a massage service to become public.
French national Mr Legris, 61, denies murder.
Ms Li, a Chinese national, who moved to the UK in 2003 was found in the boot of a Fiat Punto car a week after going missing on 23 May.
'Sexual services'
Under cross-examination, Mr Legris said he had spent the night at the home of his other wife, Irene Smith, when he returned to the home he shared with Ms Li to find her dead on the bedroom floor.
The court previously heard that Ms Li and Mr Legris ran a massage service, which "on occasion" provided "sexual services".
When asked why he did not immediately report her death, he told the court: "I panicked. I was too scared to get the blame and everything coming out which would destroy my life."
Jurors heard he wrapped up Ms Li's body in plastic sheets and moved it several times, finally to the boot of the car where it was discovered in Verwood Crescent on 30 May.
Mr Legris reported her missing at Bournemouth police station on 27 May.
Asked who he thought had killed his wife, he told the court: "It could have been anyone we met through massage or swinging."
Finances 'desperate'
The prosecution alleges Ms Li, was bludgeoned to death by Mr Legris as part of a conspiracy that also involved Irene Smith and his son Jonathan Legris.
The prosecution previously told the court Mr Legris killed Ms Li because his finances had become "desperate" and he wanted to cash in on his her £300,000 life insurance policy.
Before the start of the trial, Mr Legris admitted an offence of bigamy in marrying Ms Li in 2007, despite being married to Ms Smith since 1987.
Irene Smith and Jonathan Legris deny conspiracy to murder.
Jonathan Legris also denies assisting an offender and Ms Smith denies perverting the course of justice.
The trial continues.