Energy activists evicted from land in Canford Magna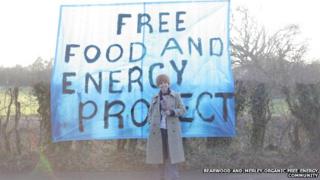 Bailiffs have evicted a group of energy activists from local authority land in Dorset.
Bearwood and Merley Organic Free Energy Community set up dwellings and started growing plants on the site of former Moortown airfield in Canford Magna.
Poole council was granted permission by a judge to remove the group.
Group organiser Elisabeth Nolson said it was "heart-breaking to live in a society where people who wish to support themselves are made homeless".
Court and private bailiffs arrived on site earlier and the group members barricaded themselves in a dwelling.
The group claimed it took "lawful possession" of the council-owned land near Canford Magna on 15 January.
They appealed against the ruling, which was granted on 3 February, at Bournemouth and Poole County Court, but were not successful.
Ms Nolson said the community wanted to "utilise the land that they [the council] would rather leave empty for 12 years while people are cold and hungry on the streets".
Ms Nolson said they had drawn up plans for a water temple, a swimming pool and social space as well as a "sheriff's HQ" at the site of the former airfield.
The council said after the eviction was complete it would inspect the site.