Lulworth Cove 'explorer' rescued from waist-deep mud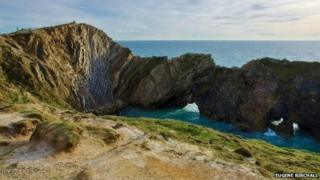 A man has been rescued after becoming trapped waist-deep in mud at a popular Dorset beauty spot.
The 29-year-old had been "exploring the landscape" near Lulworth Cove when he got stuck at Stair Hole on Sunday afternoon, the fire service said.
Two fire engines, a "technical rescue team", paramedics and the coastguard agency were called to the scene.
The man was uninjured. The fire service has warned of the dangers of cliff pathways and embankments.