Dorset Police: Six front desks closing early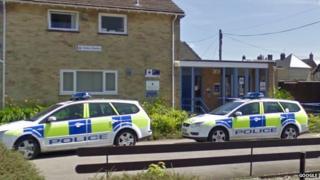 Front desks at six police stations in Dorset are being closed six months early as part of moves to save money.
Dorset Police said they had become "costly and under-used" - with some getting fewer than seven visits a day from members of the public.
The force said the closures, which come into effect from 1 March, would save £300,000.
The force had planned to close 12 out of its 15 station front desks in September.
'Challenging'
The number of closures was halved following public feedback and the intervention of Police and Crime Commissioner Martyn Underhill.
He said: "This decision has been one of the most challenging faced by Dorset Police since I was elected as Dorset's PCC and, needless to say, it is not one that has been taken lightly.
"I know that [cuts to] six front office counters are six too many, but we have to meet our cuts somewhere when we are losing 20% of our budget."
The front desks closing are in Ferndown, Dorchester, Christchurch, Shaftesbury, Wareham and Winton.
The announcement comes as Dorset Police Federation starts a six-week campaign against further budget cuts.
The federation said it was running the campaign to highlight its fears over "a future where the public will rarely see a police officer".
The campaign is being supported by Mr Underhill.