Author Ken Cook loses copyright claim against Amazon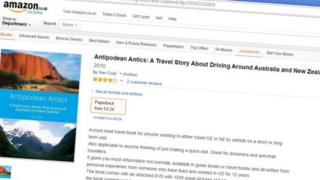 A self-published author has lost a claim against Amazon for using his image without permission.
Ken Cook took the internet giant to court over the listing of his book, Antipodean Antics, about a driving trip around Australia and New Zealand.
He said Amazon was infringing his intellectual copyright.
Peter Avis, district judge at Bournemouth County Court, ruled Amazon's terms and conditions were not unfair and dismissed the claim.
Amazon has declined to comment on the case.
Mr Cook, who is from Bournemouth, wrote the book after a 12,000-mile trip in 2004.
'1p sale'
It was originally sold for £10.99 on Amazon, but the listings on the site now link to second hand sellers who are offering it for a range of prices.
Mr Cook said he saw it being sold for as little as 1p, but he does not believe it was a genuine offer.
"I took them to court as a matter of principle," he said.
"On the slight chance I would have won, it wouldn't have been for me, it would have been for other people who have their intellectual property taken away by big companies."
Five hundred copies of the book were printed.