Highfield Manor Care Home faces enforcement action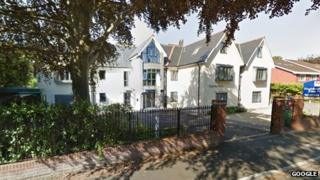 A care home that failed to provide safe or effective care must make "urgent improvements" or face further action, a social care watchdog has warned.
Highfield Manor Care Home in Bournemouth, Dorset, was rated inadequate by the Care Quality Commission (CQC).
Adrian Hughes, of the CQC, said enforcement action would be taken if things did not improve.
Unannounced inspections took place in October, December and January.
The home was also reprimanded for not being well led or responsive to people's needs, and not "caring" enough.
It also did not have enough staff to protect residents from risk and records were not accurately maintained.
Mr Hughes, who is deputy chief inspector of adult social care in the south, said: "It is vital that there are sufficient staff on duty and available to the people living at Highfield Manor Care to ensure that they receive care which is of a high quality, compassionate and safe.
"We found examples of good practice, particularly the way in which staff engaged with the people living at the home. We also identified a number of significant shortfalls."
The home is run by RYSA Highfield Manor Limited, which could not be reached for comment.