St Aldhelm's Academy confirms new sponsor Ambitions Academies Trust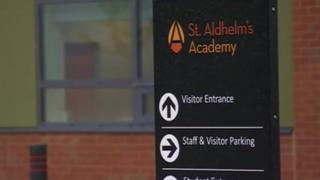 A new sponsor has taken over the running of a troubled academy school in Dorset.
St Aldhelm's Academy, partially closed for three days due to staff sickness earlier this month.
It had previously been put in special measures after an inadequate Ofsted rating.
Previous sponsor, The Diocese of Salisbury, said it "warmly welcomed" the Bournemouth-based Ambitions Academies Trust taking over the school.
The school was closed to Years 7, 8, 9 and 10 when nine staff members were absent due to illness from 6 February.
Bournemouth West MP Conor Burns, who held meetings with parents at the time said the staff illness was a "symptom" of wider problems at the school.
He said staff morale was "on the floor" and good teachers were leaving.
Ambitions Academies Trust currently runs three academy schools in Bournemouth.
Chief executive Brian Hooper confirmed in a letter to parents it was taking on the "leadership" of St Aldhelm's.
"We look forward to working with you and most importantly receiving your support to ensure that all the pupils receive the very best education," he said.