Delays fear as West Parley commuter route closes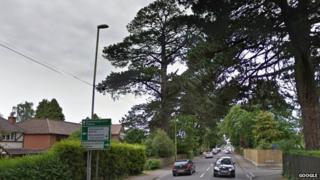 Motorists are being warned of "considerable disruption" as a popular commuter route between Bournemouth and Ferndown closes for three weeks.
Dorset County Council said the A347 in West Parley needed resurfacing as it had become "severely damaged".
The road is closed from Parley Cross up to Ensbury Bridge over the River Stour.
Traffic is diverted via the B3073 Christchurch Road to Longham, the A348 over Longham Bridge and the A341 through Kinson.
John Wilson, chairman of the county council, said "Unfortunately, this closure will cause considerable disruption and inconvenience for local residents, businesses and commuters, but it is essential work to keep our highway network functioning."
The closure is expected to cause delays to people travelling to and from Bournemouth Airport.
A spokesman for the airport said: "During this period passengers, should identify an alternate route to and from Bournemouth Airport."
The closure is expected to be in place until 22 March. Businesses will remain open as usual.