Dorchester hosts American football teams for charity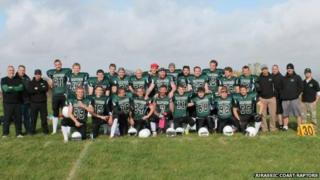 The first ever game of American football to be played in Dorchester will raise money for a children's hospice supported by a Hollywood star.
The newly-formed Jurassic Coast Raptors AFC are playing their first home game at Dorchester Rugby Club against established team Bournemouth Bobcats.
The friendly game, will raise money for Julia's House, a Dorset and Wiltshire charity which Robert Downey Jr recently pledged to raise money for.
The match started at 12:00 GMT.
Gus Mckenchie, press officer for the Raptors, said: "We are encouraging as many people as possible to come along as there will be people to explain it to them.
"It has got more popular as the university games have really taken off, which has helped.
"We have also got a lot of guys who have watched it on television and got interested that way."
The match will raise money for Julia's House, which offers home-based community care in South Wiltshire and Dorset.
Robert Downey Jr is offering fans the chance to attend Marvel's Avengers: Age of Ultron premiere in Los Angeles to raise money for the hospice.
When the competition was announced the website crashed due to the level of interest.
The Raptors need to play a number of friendly games before they can enter the British American Football Senior League, which they hope to do for the 2016 season.