Search launched for Crossways WW2 wall art airman's family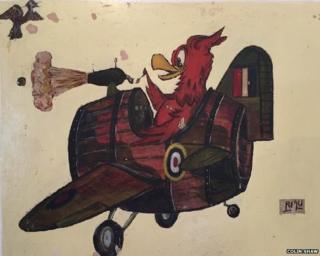 Campaigners have launched a search for the family of a World War Two airman whose painting remained hidden behind a shop's fridge for 70 years.
In 1942, Sgt Sidney Beaumont painted a gremlin in a plane on the wall of a former RAF hostel in Crossways, Dorset.
The artwork, which had come under threat amid plans to turn the building into a supermarket, was saved after a local campaign.
Local historians have said Sgt Beaumont's family tree is "a mystery".
Crossways was the site of former airbase RAF Warmwell and the shop, Tree Stores, was a YMCA hostel when airman Sgt Beaumont, of 263 Squadron, decided to paint on the wall there.
Colin Shaw and his wife Suzanne garnered support to save the unusual piece of wartime art via a Facebook page.
The artwork had been preserved over the years and was never painted over, but the bid to save it was launched when plans to turn the shop into a Co-op supermarket were revealed.
Following the campaign, a private company agreed in February to fund the removal of the painting, which was placed in storage while plans to display it in the village hall were discussed.
"Heritage means a lot to us as a village," Mr Shaw said.
The Shaws have said they now want to track down relatives of Sgt Beaumont.
Mr Shaw said: "I'm sure his family would be overwhelmed to see how much his artwork has meant so much all these years down the line."
Local historian Anthony Cooke said what happened to Sgt Beaumont remains a mystery as there are no official records of his death.
Gremlins, like the one depicted in Sgt Beaumont's painting, were a type of mythical bogeyman said to sabotage aircraft, Mr Cooke said.