Poole councillor 'should repay allowances' after move to Wales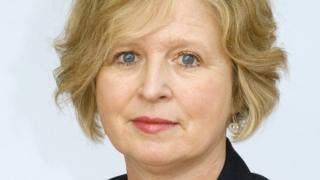 A Dorset councillor who has moved to Wales is not "properly representing her residents" and should repay some of her allowances, opponents have claimed.
Conservative Jane Pratt, who represents Branksome East on Poole council, moved to Abergavenny in November.
Opposition groups claim she has missed several important meetings and should not be paid her full allowance.
Mrs Pratt, who moved for work reasons, said she had met her legal obligations and had done "nothing wrong".
Official records show in the current term she has attended seven of eight full council meetings and all four communities overview and scrutiny committee meetings, which she chairs.
'Fulfilled duties'
But she was present at one of seven children's services meetings and no area committee meetings.
Councillor Mark Howell, leader of the Poole People Party, said: "A councillor should not be drawing a full allowance if they are not fulfilling significant elements of their role.
"It should also be questioned how a person can properly chair the communities committee if she is no longer an active member of the community."
Analysis by Tristan Pascoe, BBC Radio Solent political reporter
There is, of course, a bit of mischief-making among opponents here - there are council elections coming up in May.
But it is a timely reminder of people's perceptions and expectations of their elected representatives.
Public confidence in politicians is at an all-time low.
In January, a poll by Ipsos MORI showed that the British public are less likely to trust politicians to tell the truth than estate agents, bankers and journalists.
Mike Brooke, Liberal Democrat leader, said Mrs Pratt should pay back some of her allowances, but that the real issue was her missing meetings which was "letting her residents down".
Mrs Pratt said she splits her time between Wales and Poole, works by email and phone and regularly stays with fellow Conservative ward councillor Karen Rampton.
Mrs Pratt, who was elected in 2012 and will not be standing in elections in her ward in May, said: "I have fulfilled my duties as a councillor and have fulfilled all my legal obligations.
"The opposition councillors would be far better off spending their time putting their own house in order rather than criticising somebody who has done absolutely nothing wrong."
Poole council, which is in no overall control but run by a Tory minority administration, said Mrs Pratt would have received the basic annual allowance of £9,374 and an additional £4,480 special responsibility allowance as committee chair.
The council's head of democratic services confirmed she had met the legal requirements for attendance of the committee.
Leader of the council Elaine Atkinson backed her fellow Conservative member and said other councillors should look at their own attendance records.