Charborough Estate solar farm plans downscaled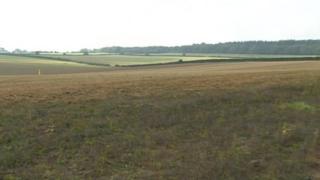 Plans for a solar farm in Dorset have been downscaled following pressure from campaigners.
Proposals for the development in Mapperton on land owned by South Dorset MP Richard Drax are for 90,000 solar panels across 44 hectares (106 acres).
Good Energy had initially proposed an installation on 70 hectares (175 acres) of land at the Charborough Estate.
But a Campaign to Protect Rural England (CPRE) spokesman said the farm was still too big.
Good Energy has held two public exhibitions detailing the new project, which has 22,000 fewer solar panels.
'Soccer pitch size'
Hugo House, a senior project developer, said: "It's encouraging that a number of local residents who opposed our original application, having reviewed our revised plans for a smaller solar farm design, now support our proposal."
However, Rupert Hardy, from CPRE Dorset, said: "The farm is still very large at over 66 soccer pitches in size, and it's in an Area of Great Landscape Value.
"Dorset is doing pretty well in terms of reaching its renewable energy targets thanks to the approval of 37 solar farms within Dorset, many in the last 18 months.
"Most of these are discreet, smaller farms and are not on agricultural land."
East Dorset District Council gave permission for the initial plans in 2013, but campaigners won the right to a judicial review.
Good Energy subsequently decided not to contest the review following legal advice.
The company will submit its revised plans to East Dorset District Council later in the month.