Four stranded teenagers rescued from Old Harry Rocks in Dorset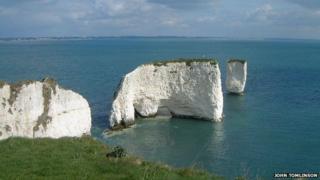 Four teenagers were "extremely fortunate" to be saved from rocks cut off by the sea after they were found with water rising up to their chests.
The male foreign students were stranded at the Old Harry chalk stacks on the Isle of Purbeck, Dorset, after a rising tide cut them off on Saturday evening.
Poole Lifeboat said the group were found "in the nick of time" just before 19:00 GMT.
Other walkers have been warned to not to venture out on to the foreshore.
Lifeboat volunteer Jonathan Clark said: 'We are experiencing very extreme spring tides and low waters at the moment due to the spring equinox and areas of the foreshore are being exposed.
"This weekend it has been the biggest one of the year and though areas may seem accessible, it is not a good idea.
"The people that we were tasked to today were extremely fortunate. If they had not been able to raise the alarm, then today would have been a totally different scenario."
The Maritime and Coastguard Agency said: "It is important to always check the weather and tidal conditions before you set out so that you can prepare accordingly."