Spencer Flower, of Dorset County Council, denies conflict of interest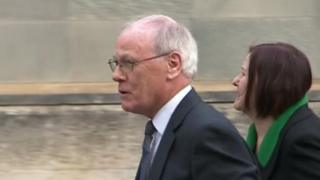 A former council leader has told a judge he did not try to hide his involvement with a housing company during a planning process.
Spencer Flower, Dorset County Council's former leader, is accused of voting at a council meeting, despite declaring an interest in a social housing company.
He voted on East Dorset's core strategy while non-executive director of charitable social housing company Synergy Housing Ltd.
Mr Flower denies the charge.
He was charged under the Localism Act in relation to the meeting in February 2013 while he was leader of East Dorset District Council.
The vote was on whether the core strategy for the area should be referred to the Secretary of State for approval.
At the time he was non-executive director of the not-for-profit social housing company, for which he received an annual allowance of around £5,000.
He declared his interest in the charity prior to the meeting but he is accused of taking part in the vote "without reasonable excuse" despite his pecuniary interest.
The core strategy included plans for redevelopment in Wimborne and, although no planning permission had been submitted, it was thought some of Synergy's social housing could be improved by developers Wyatt.
Mr Flower said he has "always been scrupulous about declaring interests" and had never tried to hide his involvement with Synergy.
Conservative councillor Mr Flower, 72, of Verwood, Dorset, is due to appear again on Monday 30 March when District Judge Stephen Nicholls is due to deliver his verdict.
It is believed to be the first prosecution under the Localism Act 2011.
Two other charges against him, for failing to disclose an interest in Zebra Property Solutions Ltd to East Dorset Council and to Dorset County Council between July 1 2012 and March 6 2013, have been dropped.