Portland Bill lighthouse visitor centre opens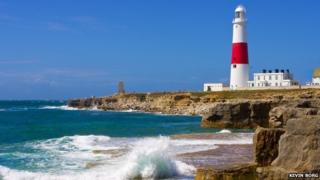 A new visitors' centre has opened at one of the most recognisable landmarks on the Dorset coast.
The former keepers' house, beside Portland Bill Lighthouse, has been refurbished by owner Trinity House.
The new attraction features displays on the lighthouse's history. Visitors can also climb the 41m (134ft) high structure for views over the Jurassic coast.
Portland Bill has been the site of a lighthouse for almost 300 years.
Trinity House's executive chairman, Captain Ian McNaught, said: "It is great to add another element to the diverse range of platforms we use to engage with the public."
The current lighthouse, which dates from the early 20th Century, was automated in 1996.