Christchurch St Catherine's Hill fire 'deliberate'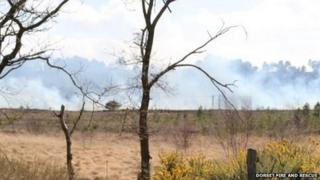 A large blaze which destroyed more than 70 hectares (175 acres) of heath in Dorset was started deliberately, police have said.
It is believed three separate fires were started in parts of St Catherine's Hill in Christchurch on Tuesday afternoon.
About 80 firefighters spent five hours tackling the blaze.
Amphibian and Reptile Conservation said the fire had been "catastrophic" to wildlife.
Teams of volunteers have been combing the fire-damaged site to collect surviving animals, including sand lizards and smooth snakes.
Senior reserves manager, Gary Powell, said: "It's caused untold damage. The heath is full of protected species and getting it back into shape will take many years".
Dorset Fire and Rescue Service said it was one of the biggest heath fires the service had ever dealt with, causing damage to an area the equivalent of about 100 football pitches.
Smoke could be seen for miles around and at one point was blowing across parts of the A338 Spur Road near Bournemouth International Airport.
Crews worked overnight to damp down remaining hotspots.
Dorset Police said "a significant area of heathland and wildlife habitat" had been affected and appealed for anyone who saw any suspicious activity in the area to contact them.