Christchurch heath blaze: Teenagers quizzed over suspected arson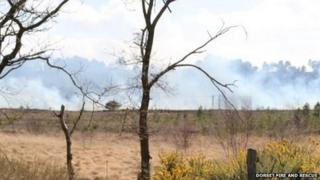 Two teenage boys are being questioned following a huge heathland blaze that caused "untold damage" in Dorset.
Three separate fires were believed to have been started deliberately in St Catherine's Hill, Christchurch.
An area the size of 100 football pitches - some 70 hectares (175 acres) - was destroyed on Tuesday.
Police said the boys, aged 14 and 15, and from the local area, had not been arrested but were helping officers with their inquiries.
Fire crews called it one of the biggest heath fires they had ever dealt with and that it caused "catastrophic" damage to wildlife, including sand lizards and smooth snakes.
Police said they had received information from the local community about who might be responsible.
About 80 firefighters spent five hours tackling the blaze.
Senior reserves manager, Gary Powell, said: "It's caused untold damage. The heath is full of protected species and getting it back into shape will take many years".