Friars Cliff beach huts sell for £462,000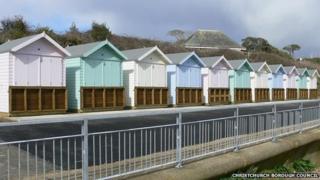 Eleven new beach huts the size of garden sheds have sold for a total of £462,000.
The huts on Friars Cliff beach in Christchurch, Dorset, have no fittings, running water or electricity and cannot be used between 22:00 and 06:00.
Even so the 8ft x 7ft huts were sold within weeks by Christchurch Borough Council, fetching £42,000 each.
The buyers will also have to pay a £757 annual licence fee to the council and rates of about £450.
Judith Plumley, from the council, said: "The fact that these huts have sold so quickly shows that there is a great demand for people to have a hut in one of the prime locations on the south coast.
"The funds generated will help to resource other projects and services across the borough."
There are 167 privately-owned huts on Friars Cliff beach.