Kayakers and instructor rescued near Old Harry Rocks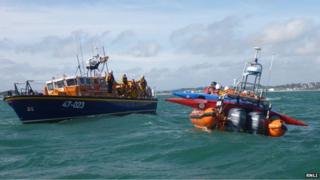 A group of kayakers had to be rescued after getting into difficulty off the Dorset coast.
The instructor and four other kayakers called for help off Old Harry Rocks, near Swanage, on Sunday afternoon after being blown out into the swell.
A coastguard helicopter and Poole's lifeboats, which were on an exercise, found the group off Hook Sands.
They were brought to shore on board the lifeboats, along with another instructor who had come to help them.
The group had set off from Knoll Beach but conditions out of the bay had been blustery.
Volunteer helmsman James Kilburn said: "With the strong offshore wind as soon as they were outside the shelter of Studland Bay it would have been extremely difficult to paddle back to shore."