Dorset Gypsy sites plan objections raised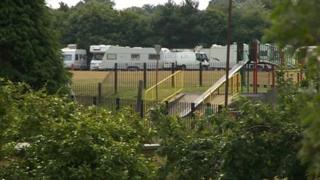 About 80% of respondents to a Gypsy and traveller site consultation in Dorset have raised objections.
Eight potential camps were identified last summer, including at a closed landfill site near Okeford Fitzpaine.
A report on behalf of the county's nine councils said the majority of objections received were for a site at a redundant Army camp in Wyke Regis.
Concerns raised included flooding, contaminated land, poor road access and impact on the environment.
A petition with more than 700 signatures was also received against the Army camp site.
A countywide search for traveller sites began in 2010 and several sites have previously been considered but rejected.
---
The proposed sites
•Conygar Coppice, Okeford Fitzpaine - 15 pitches
•Redundant Army camp, Wyke Regis- 6 pitches
•Former Guard House, Piddlehinton - 7 pitches
•Old Chapel Yard, Marshwood - 1 pitch
•The Ford, Sandford Orcas - 1 pitch
•Former highway west of West Stafford - 2 pitches
•Greenbelt land at Crumpets Drive, Lytchett Matravers - 1 pitch
•Land at Wigbeth Farm, Horton - 12 pitches
---
About 20% of responses during the latest consultation, which ran between 15 September to 24 October last year, supported the additional sites, the report by planning consultants Peter Brett Associates said.
It has recommended the councils progress with their plan, taking into account the comments received during this, and the previous consultation in 2011/2012.
It also suggested further work takes place to examine in detail the site constraints, availability and deliverability, and that those identified in the earlier consultation be re-examined "to establish whether there has been any change in circumstances".
The councils have said between 2,400 and 3,000 Gypsies and travellers live in Dorset. The number varies according to the season, with more people arriving during the summer months.
There is a shortage of permanent and transit sites in the county and more are needed to meet government targets.
The councils said it would take until the end of 2016 for the plan to be adopted.
However, the report recommended this timetable be "re-examined and revised if necessary to reflect future progress".