Biplane crash: Pilot's attempted loop-the-loop 'too low'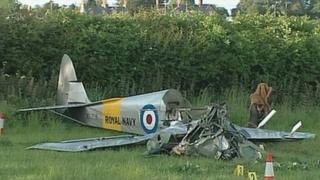 A biplane that crashed killing its passenger appeared to have started a manoeuvre at too low an altitude, a court has heard.
Pilot Scott Hoyle, 48, from Poole, was flying the Tiger Moth that crashed near Witchampton, Dorset, in May 2011.
His passenger, former Royal Marine Commando Orlando Rogers, 26, was injured and died in hospital.
Mr Hoyle, who is also a former Marine, denies manslaughter in a trial at Winchester Crown Court.
Eyewitness Heather Pearce, a retired airline pilot, described to jurors how she saw the plane begin a "loop-the-loop" manoeuvre while she was horse riding with her daughter.
"I thought it was rather low for what it was doing. You would have wanted to start that manoeuvre at 3,000ft... I guessed it was at 1,500ft going into the loop"
'Professional'
Paramedic Christopher Holland told jurors of conversations he had with Mr Hoyle as he was trapped in cockpit and in a helicopter going to hospital.
"I asked how got into difficulty and he told me how he'd tried to put his foot down on the pedal lever but it wouldn't go to the floor and was stuck for some reason," he said.
The court also heard from the plane's co-owner Tim le Mesurier who said the plane had been maintained to the "highest quality".
He described Mr Hoyle as "professional, conscientious and thorough in whatever he did"
Nicholas Diamond who had been a passenger in earlier flight with Mr Hoyle described how he had completed two loops without feeling uncomfortable.
"I didn't feel Hoyle was trying to show off," he told the court.
The 1930s plane had taken off from Compton Abbas Airfield, near Shaftesbury, before coming down 980ft (300m) away from Rowbarrow Lane, Witchampton.
The jury previously heard Mr Hoyle, of Charborough Road, Broadstone, is being retried on two charges.
He also denies endangering the safety of an aircraft.
Mr Rogers served as an officer with the Royal Marines for six years and had been deployed in Afghanistan and Northern Ireland.
The trial continues.