Tiger Moth biplane death crash pilot Scott Hoyle not guilty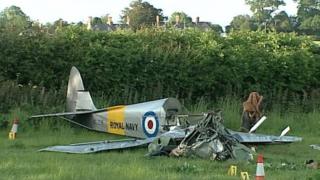 A biplane pilot has been found not guilty of causing a crash that killed his passenger.
Scott Hoyle, 48, from Poole, was accused of attempting a loop in the Tiger Moth when it crashed near Witchampton, Dorset, in May 2011.
His passenger, former Royal Marine Orlando Rogers, 26, was fatally injured.
Mr Hoyle, who is also an ex-Marine, was found not guilty of manslaughter at Winchester Crown Court.
He was also cleared of endangering the safety of an aircraft.
Mr Hoyle had denied the charges, insisting he crashed after the rudder pedal jammed.
He told the jury the plane began to violently rotate, so he pulled back on the control stick, bringing the nose up and making it look like a loop.
But the Tiger Moth flipped over, started to spin and fell to the ground, the court heard.
Mr Hoyle described it as a "tragic accident" and said the crash was not due to dangerous risk taking on his behalf.
The 1930s plane had taken off from Compton Abbas Airfield, near Shaftesbury, before coming down 980ft (300m) away from Rowbarrow Lane, Witchampton.
'Forever loved'
Mr Rogers served as an officer with the Royal Marines for six years and had been deployed in Afghanistan and Northern Ireland.
His family said they were disappointed with the verdict and Mr Rogers would be "forever loved and forever missed".
His mother Julia Rogers said: "I have flashbacks and I kind of relive what happened constantly."
On hearing light aircraft performing manoeuvres near her home, she said she has to "go inside and hide".
She added it had got to the point where she was "ready to move".
'Painful and distressing'
A statement, read out by Mr Hoyle's friend Den Laithwaite on his behalf, said he believed he had been "a victim of the failures in the air accident investigation system".
"His account of events was dismissed by those tasked with investigating who appeared to refuse to consider compelling evidence that was presented to them by his team," Mr Laithwaite said.
"He has had to listen to wrongful accusations, opinions and attempts to apportion blame which have been incredibly painful and distressing."
An Air Accidents Investigation Branch (AAIB) spokesman said it followed "strict protocols" in carrying out investigations and "treats anyone coming forward with information with care".
"Anyone whose reputation may be affected is able to review draft reports and provide comments for consideration before it is published."
He said the AAIB carried out safety investigations "to prevent future aircraft accidents and incidents and not to apportion blame or liability".