Charminster bridge: concern over replacement work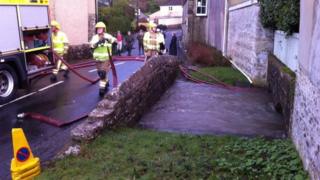 Businesses in a Dorset village have raised concerns about the disruption caused by work to replace a bridge.
The Charminster Bridge, which was blamed for causing floods, is being dismantled after authorities agreed it restricted the flow of the River Cerne.
Shop owner Lindy Christopher said the five-month road closure would have a "big impact" on the village.
Dorset County Council said time was being taken to reuse stone and "reflect the character" of the old bridge.
English Heritage gave permission for the Grade II listed 16th Century bridge to be replaced with a new one with bigger arches.
Material recovered from the old bridge is to be incorporated into the new structure, with archaeologists monitoring the work.
The existing parapets will also used on the new bridge.
'Big improvement'
Work also includes raising the road surface by 30cm (1ft) to accommodate the larger arches. The road is due to be closed to vehicles until October.
Ms Christopher said: "It definitely needs to be done, its just the time its going to take, it's going to have an big impact on the whole village.
"Five months is a long time for the main road through the village to be closed."
Dorset County Council team leader John Burridge said "constraints" of working on an historical structure and the need to work around flowing river water added to the time the project would take.
The bridge had been blamed for nearly wrecking a nearby Grade I listed church during the January 2014 floods.
Mr Burridge said modelling showed the new bridge should reduce the frequency of flooding from once in every 10 years to once in every 50 years.
"Its replacement will be welcomed - it will be a big improvement for the people who live there," he said.