Oxford's Frideswide Square roadworks prompt safety concerns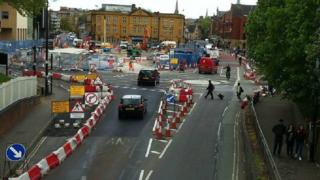 Two accidents involving cyclists at the site of major roadworks in Oxford city centre have raised concerns over safety.
Upgrade works at Frideswide Square began in February and are expected to end in December.
Cyclist Sarah Rushmore described the area as "the most dangerous part of my daily commute".
Oxfordshire County Council said a diversion for cyclists was now in place.
Ms Rushmore said the area was "quite chaotic" because of the roadworks.
"It has become increasingly dangerous because vehicles cut across the centre of the roundabout, which then causes problems for those who are going around it," she added.
She has suggested the introduction of pedestrian crossings and traffic lights could help.
The council said it was aware of two accidents involving cyclists at the site and would asses whether any further changes were needed.
It said the mini roundabouts at Frideswide Square were signed and operated in the normal way, with road users required to give way to traffic from the right.
The city-wide 20mph (32km/h) speed limit also applies in the area, the authority added.
The 2011 Census found 17% of working residents in Oxford cycled to work, the second highest rate in the country after Cambridge with 29%.