Grave picnics at Christchurch Food Festival criticised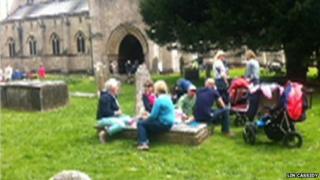 Organisers of a food festival have said they will review seating issues after visitors were pictured picnicking on church gravestones.
Families were photographed using tombs as tables in the Christchurch Priory graveyard during the town's food festival.
Resident Lin Cassidy who took the picture said it was "disrespectful".
Christchurch Food Festival organisers said they would look at providing more space for eating at next year's event.
Ms Cassidy photographed a family apparently eating a picnic, using a flat gravestone as a seat and a table.
"There were lots of other people leaning and sitting on tombstones, putting their bags on them, I just thought it was in bad taste," she said.
When the picture appeared on social media, opinions were divided as to whether it was inappropriate.
Christchurch Food Festival events were held at various venues around the town last weekend.
'Enjoy their goodies'
Chairman Vicki Hallam said she had been "very conscious" about visitors moving between venues and that efforts were made to encourage people to use open space at the "festival village" by the quayside for picnics.
"It's not something we condone, people picnicking on gravestones, obviously.
"We had signs around the town and stilt walkers to encourage people to go down there ... as opposed to them sitting on the gravestones in the Priory.
"We will definitely look again to see where we can provide some space for people to sit down and enjoy their goodies."
The festival, run by a not-for-profit company, was first held in 2000 to promote the towns restaurants, cafes and food producers.
Reverend Charles Stewart, of Christchurch Priory, said the food festival was a "wonderful event" and members of the public are "free to use the churchyard".
He said: "Although the churchyard has not been used as a graveyard for many years we would ask people to be aware of their surroundings, considerate of the gravestones and of the sensitivities of other people."